QS Discover MBA Fair 2023 in Shanghai
Nov 4, 2023, Sat 14:00-17:30
W Shanghai - The Bund (Gate 3, International Cruise Terminal Station of Line 12)
Learn what schools really want to know and present your authentic self in your MBA application! Admissions Officers from top business schools will offer tips for crafting a competitive application. Alumni will share insights into their personal MBA experiences as well as their career paths, before and after school. This is a non-evaluative event for your benefit. Ask your questions, learn from the experts, and connect with each school.
Top Business Schools

Meet with 30+ world's top business school!

Financial aid

Apply for scholarships worth $45K, exclusively for QS event attendees Various scholarship options, including scholarships offered by QS and business schools

Direct communication

Face-to-face communication with admission directors Get personalised advice for choosing the right school/programme, making a successful application and developing career after MBA Make connection with top school alumni

MBA Alumni Networking

Networking with Top MBA Alumni
W Shanghai - The Bund
No.66 Lvshun Road, Shanghai (Gate 3, International Cruise Terminal Station of Line 12)
Sister Events
Nov 4, 2023, Sat
11:30-14:30
QS Connect MBA 2023 in Shanghai
Nov 4, 2023, Sat
11:30-14:30
W Shanghai - The Bund(Gate 3, International Cruise Terminal Station of Line 12)
As part of QS Discover MBA Fair, QS provides prospective students interested in specialised MBA with 30 minutes meetings with admission directors from participating schools, based on your study needs and career & academic background. Through attending these scheduled meetings, you can discuss your study needs with admission directors in more details, and obtaining personalised advice on choosing the programme, application and career development.
Register now for free to guarantee your place.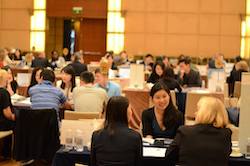 Why attend

Broad range of subjects: attending schools offer a broad range of subjects in MBA (e.g. Finance, Leadership, Human Resources and organisational behaviour, Management, Marketing and Communications, etc.). Personalisation: QS team will match you with schools based on your study needs and schools' admission requirements, finding you the perfect match. Application preparation: Deep discussion with admission directors will help you further understand your objectives and your strengths, as well as helping you practices your interview skills.

How to attend

When completing the QS Discover MBA registration form, tick "Connect MBA" sub-event. QS team will contact you before the event to help you organise meetings with schools based on your preference and background. *Please note: candidates register this event will be selected by QS team and schools, only those who receive invitations will be able to attend this event. Please upload your CV in English when registering the event, or you can submit your CV when QS team contacts you later.
Participating School List
QS Discover MBA Fair 2023 in Shanghai